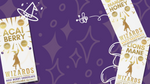 Today, 29th May 2021, is marks world digestive health day. We think that is a day worth the big celebration... obviously with chocolate involved! 
You are probably wondering why we are so bothered about digestive health at The Wizards Magic? To answer your query, a lot of our chocolate is related to digestive health! In fact, our Açai Berry, Lions Mane and Manuka Honey chocolate all have ingredients that help aid digestive health. As digestive health is becoming increasingly more important, we want to share all their amazing digestive health benefits with you! 
Açai Berry
Açai Berries are becoming increasingly popular and digestive health is one of the many reasons why! They are commonly associated with their detoxifying properties that work hand in hand with digestion. They are also rich in antioxidants which means they are perfect for removing harmful toxins in the body, including ones from the digestive system. To make it even better, they also taste great in chocolate (not that we are biased!).
Lions Mane
Lions Mane, the mushroom that keeps giving! This superfood has so many benefits and digestive health is just one of them. Lion's Mane fights inflammation, including inflammation in the stomach. Furthermore, it has been shown in studies to fight bad bacteria in the gut and encourage good bacteria to grow; aiding digestion in the body. Have you ever heard of a mushroom so cool?!
Manuka Honey 
We have spoken about Manuka Honey in a previous blog, which you can read here. But it doesn't stop at that blog! It wouldn't be world digestive health day if we didn't mention magical Manuka! Similar to Lions Mane it is full of properties which help fight and balance out bad bacteria. This helps build immunity and fight infection in the gut. What a sweet benefit! 
Have you ever found a chocolate brand so functional? Hopefully you feel inspired to celebrate digestive health day! If you want to do a celebratory chocolate order you can find our Enchanted Forest range here.